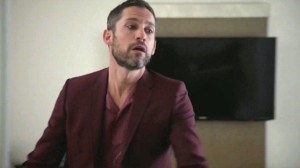 Sean Morris
Staff Writer
Hello everyone, this is a new features column I shall be writing for. Essentially its purpose is to spotlight characters from the world of Film TV and other media have massive potential for exploration and deserve bigger roles than they currently have.
The popular Starz series Power is centered around James St. Patrick, a legitimate businessman and nightclub owner who  is also Ghost, one of New York's top drug kingpins, and is  is hoping to break from the latter career. One of the main obstacles in his path is his crime boss, Felipe Lobos. In the series, Lobos is one of the main antagonists with a violent and vicious nature, and is the source of the FBI's investigation into the drug ring that Ghost is a part of.
Despite the fact that he mentioned many times and has a few  scenes- he's never given much chance to show his dangerousness in person. He's given a few moments like where he seems to be interrogating someone and is preparing to chop up people with a machete- but we never get see any of the "blood spilt" that he seems prepared to do.  And the show doesn't exactly shy from violence either- so it doesn't make much to keep Lobos under wraps the way that they choose to.  What I think the character needs, and seems to be going for- is a kind the violent, controllable criminal that characters like Gyp Rosetti (Boardwalk Empire), Don Logan (Sexy Beast), and Norman Stansfield (Léon the Professional) had perfected. I don't know if it's because the actor's schedule simply limited how much they could do with them, but I feel as though the show's next season will have some more opportunity to have him and I seriously hope they can take advantage of it. One thing I find unique about the character is his sense of style. The styles of his suits and shirts are bold, unique and interesting enough to make him one of the best dressed men on tv.
Another thing that I like about the character, at least from a personal standpoint, is that he is gay. I liked that I think it allows diversity into how gay characters are incorporated into current television. . Often it seems like most, gay characters are portrayed as more friendly– the gay boyfriend and whatnot–and, as a result, aren't given much edge that seems to be coveted in today's entertainment. Not everybody agrees with my wish on this — One reviewer complained that making the character gay is a bit homophobic as it's meant to add to his "freakiness", and certainly not helping the show is having notoriously homophobic rapper 50 Cent being its executive producer and co star. And while I do see their points, and at times wonder it myself, I can't help but think that the overall character, or at least the potential of the character, offers some more flavor and diversity we haven't seen much before.  
Plot twist this character deserves: (write a few sentences describing the kind of plot that would give this character a chance to shine.)
Lobos escapes from prison and goes on a warpath on Ghost's life. He blows up the club that Ghost has worked to bring up the entire show, brutally tortures his right hand man and close friend Tommy, goes after his love interest and FBI investigator Angela Valdez and starts the set up his old mentor and rival Kanan to take Ghost's place as the leader of his New York distribution. This may sound pretty big, but when Ghost said that "Lobos goes scorched earth" I expect to see it.