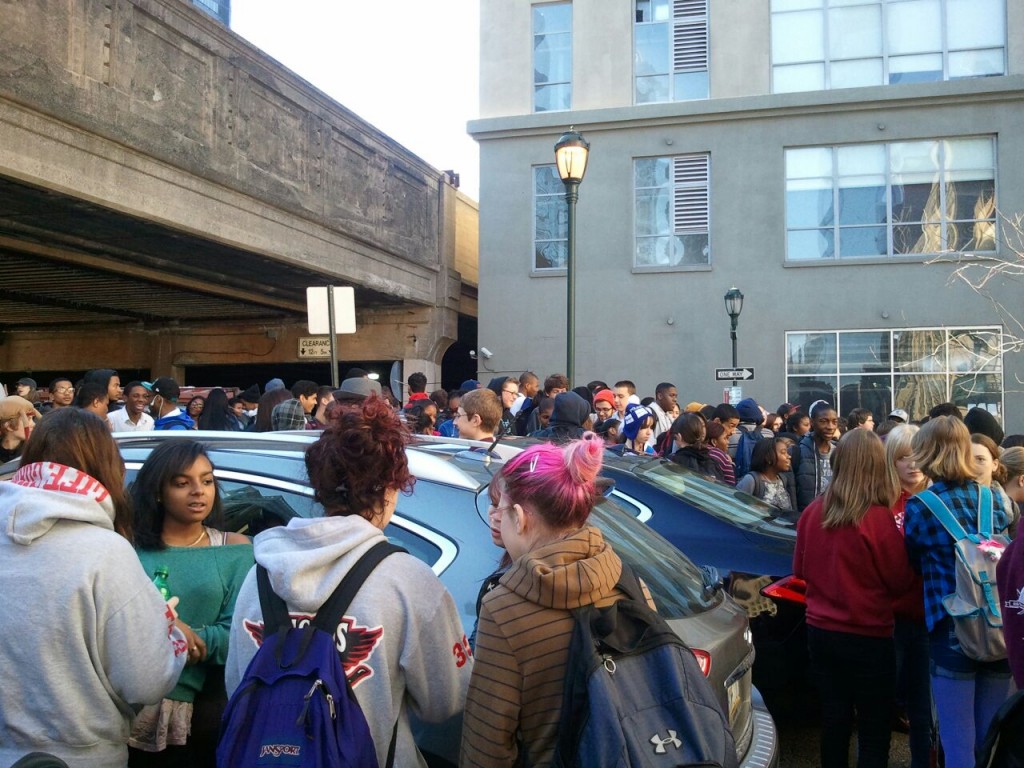 By SLAMedia Staff
Interviews by Melanie Thomas and Jacob Lotkowski
On Thursday, Dec. 13th, the entire population of 55 N. 22nd Street was sent outside for the second day in a row.
At around 12:30 PM, during Y band, the fire alarms went off, leading to a full evacuation.
This alarm was a particular surprise because the school had just had a scheduled practice drill the day before.
Students remained outside for 25 minutes while Principal Lehmann investigated the source of the alarm.
There was no fire, but the cause of the alarm is not completely clear. Construction has been happening on the residential side of the building, which Principal Lehmann thinks was probably the culprit.
"The landlords think it's from students, and we think is from the dust of the workers," Lehmann said. The workers were kicking up dust during construction. Residents of the building also had to evacuate.
After it was determined that the building was safe, however, the alarm could not be disabled because the code given to the school to deactivate it was wrong.
The fire department did not show up, but that was by design. According to Lehmann, "the alarm calls the fire department depending on the code." Based on where the alarm went off, the fire department was not immediately notified.
During the time outside, rumors swirled about the cause of the evacuation. Students had many theories, including a mishap in Engineering Teacher Matthew VanKouwenberg's classroom, or a pulled fire alarm, such as the red box by the front stairwell on the third floor, where the plastic case is broken.
Because the alarms don't actually go off during a drill, the situation seemed more serious than usual.
Freshman Isabella Mezzaroba stated, "First I thought that it was just another drill because we had a drill the day before, but then I remembered the alarm doesn't go off when we have drills."
"Some people panicked," she said, "but everyone seemed to be pretty chill about it."
Other students were unfazed by the drill.
When asked how he felt about the evacuation, Junior Anthony Buchnico said, "Pretty indifferent. I didn't expect there to be a fire."
One lingering concern is the broken door to the back stairwell on the 5th floor. If the door is not propped open, it is locked shut. A truck parked right outside the back door also created a bottleneck of students trying to exit the building.
"There was a big cramp there for a little bit," reported Buchanico, "but we got by it thankfully."
After twenty or so minutes outside, the alarm was finally disabled, and students returned to their normal schedules.
"I was relieved that my school didn't burn down," reported Mezzaroba. "And then I was like, 'Okay. Off to English class.'"