Benjamin Simon
Staff Writer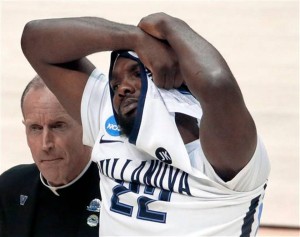 Who saw the 21 and 13 North Carolina State Wolfpack upsetting the 2 loss Villanova Wildcats? Absolutely no one. Outside of Kentucky (who went 31-0 during the regular season), Nova was the most consistent college basketball team in the nation. The squad had won 16 straight games and looked unstoppable. They had averaged over 76 points and shot a remarkable 46% from the field in conference play. After overwhelming Lafayette and showing little weakness, the Wildcats continued to look poised to win the NCAA championship. But two days later they were sent home. How? How could such a successful and laspeless team lose?
Like stated before, Villanova shot 46% from the field in conference play this year. They also shot just a tad below 40% from three on the season. They relied on their precision shooting and team play to propel them to 32 wins before March Madness. Saturday the team shot 31% from the field and 32% from 3-point range. Outside of Darrun Hilliard (who was 6-10 from three), the team was 3-18 from outside. It was not as though they weren't getting open looks- they had plenty. The team was unable to knock them down and it cost them. Furthermore, Villanova  only made 19 shots altogether. In their other two loses, the Wildcats made less than 20 shots as well. This was a recipe for disaster.
I also noticed as the game began to close, the team took ill advised and quick field goal attempts early in the shot clock. This could be reflected by their mere 7 assists, which was a season low. This showed their panic as the game began to slip through their fingers. Nova had not been down much throughout the year and I felt as though they were very unprepared for the situation. This might have been one of the prominent reasons why Villanova took such a terrible approach towards the latter part of the game.
One could point to many flaws throughout the meeting. Nova was significantly outrebounded (45-32) or the fact that Josh Hart and JayVaughn Pinkston were in foul trouble. But I think their struggle to play disciplined, as a team, and shoot the ball with proficiency were the underlying reasons why Villanova is pack-ing up.