The jokes were pessimistic this summer at Science Leadership Academy's boy's soccer training. All this work at the top of hot days in August would be meaningless if we were to lose our team this coming fall. We pieced together fuzzy local news stories about dates and deadlines–ultimatums by both sides of the table, the district and education advocates, about 2013-2014 sports funding.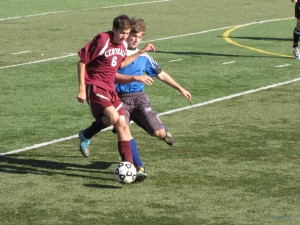 Talking to English teacher and Athletics Director and Mr. Kay, I was expecting to hear about how the fall season almost didn't happen, and the only way it was able to be a reality was through crippling cuts to the budget.
We're pretty bare bones right now, like the budget is referees, coaches, transportation–we need all of those things. I don't think they could cut any more… The danger is much larger than what schools have teams, it's weather or not entire seasons exist. – Athletics Director Mr. Kay
This athletics budget has remained the same since a few years ago when the district asked every team to cut one program. SLA cut track–the Home and School Association pays the track coach every year. Since that time, the budget has remained mostly the same. If the district cut any more than what they have now, school athletics programs wouldn't be able to reasonably exist.
The real story lies if there will be winter and spring sports. These two seasons are not yet confirmed. "Everyone is just assuming that they will be brought back just like the fall sports were" said Kay. The possible sports that still might not happen this year are as follows.
Winter
| | |
| --- | --- |
| Boys | Girls |
| Basketball | Basketball |
| Bowling (intramural) | Bowling (intramural) |
| Indoor Track | Cheerleading |
| Swimming (intramural) | Indoor Track |
| Wrestling | Swimming (intramural) |
Spring
| | |
| --- | --- |
| Boys | Girls |
| Baseball | Badminton |
| Lacrosse | Lacrosse |
| Tennis | Softball |
| Track and Field | Track and Field |
| Volleyball | |
That being said, most people are under the assumption that the district is going to bring back winter and spring sports just like they did for the fall sports.