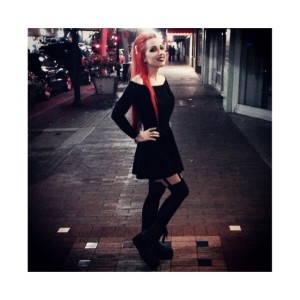 Staff Writer
Corinthia Bell
Have you ever wondered of the Gothic subculture? Many consider Goths to be creepy and vampirish, but in truth the subculture is simply one where beauty is shown in the darkness. If there's beauty amongst light and colours, wouldn't you say there the same for the shadows? This subculture's fashion always involve black, but there can be a bit colours that suit the colour black, such as red or dark blue. It also involves chokers, short/ long sleeves for the arms, platforms, spiky hair and legs are usually covered with thin laced stockings.
The history how it has adapted to where it is today has came from a range of time periods. Many believe Goth has formed from the punk movement in the 70s, but it actually hadn't. For this subculture has always been in existence ever since the early 800 A.D.  Of that time, there were Vikings and the Goths were of the Viking groups. Even later around the 12th century, architecture was a popular form of it. But knowing then that buildings, such as Gothic churches, are labeled as Goth then mostly Goth people went into these places. Such people were known as a group and Gothic was their religion. This subculture's religion believed in Christianity, sharing much doctrines and practices as today's Christians. They even had tribes or division groups such as the Gepids, Vandals, and Burgundians.
So, where are Goths today? To be Goth is presently most popular in Germany and Japan. A main day where Goths are supported, is Goth Day. By supporting, someone gives a share of this beautiful style to all. Goth day takes place upon Friday, May 22. It firstly existed 2009 in the UK only, until a year later when it became universal. The reason of why it takes place upon May 22, is because a BBC radio broadcasted a show that focused on the Gothic subculture and it was on that date, and so as a result it became lovely Goth day.
A quick poll of the journalism class, has showed that if most students were to see someone wearing full black or have a pentagram, they'd assume they're Goth when they could be of another form of style. Of those styles considered to be wrapped under the Goth package, alone they are their own individual style. Such other styles are known as Emo, Scene, Punk, Pastel Goth, Metal and much more. But of those who attend SLA, there hasn't been anyone known to be identified as Goth, but however few are identified as emo and punk.
Several students in the class actually said that they thought I was a Goth. However I am just simply a someone who loves the colour black. The outfits I wear are worn by me because I cherish the styles and designs I see my favourite stores offer. I shop mainly upon Hottopic, Forever 21 and a lot of online stores. I always look for black with clothing that has designs of elegance, skulls, floral lace, and lots bands with low collars, long sleeves, oversized sweaters and leg skinny jeans/leggings, as well worn with a choker and black studs.
I personally can somehow differentiate those who are thought of Goth, but aren't simply by knowing what each of the styles are that exist. For one, Emos are those whom cover an eye with the hair, wear tight pants, with band t-shirts, belts (sometimes) and converses. Scenes are those with much dyed hair that is teased oftenly and coloured clothing worn with black. Punks are those whom have the spiky sometimes shaved hair, spiked jackets bracelets etc and worn with little colour. pastel Goth is same as Goth but with bright kawaii colours and dyed hair. Then lastly metal as in everything bands with the same exact kind of clothing style as metal band members.
With this, such is tells to show that Goths too, have their own substantial gathering where they can truly union with with each other. It also gives way of to showing one's private personalities. Now that you know what to be Goth is, you can see those no different than you, as someone that has love to show a beloved history.