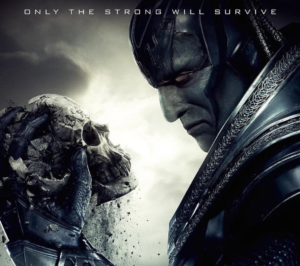 Sean Morris
Staff Writer
Going into the new X Men film, I wasn't sure what to expect. The reviews weren't that great and the X Men films did have its ups and downs, but the latest ones were very good, even the best of the series. So I came in with a mixed bag of what to expect and I came out with something I was not only very happy to see, but something i am writing to close out my reviews at SLA media.
The film takes place in 1983, 10 years after the climactic events of Days of Future past as we find a younger Charles Xavier (James Mcavoy) operating his school of gifted youngsters, as his frenemy Erik Lehnsherr (Better known as Magneto as played by Michael Fassbender) has exiled himself to poland. Meanwhile the first mutant, the menacing Apocalypse (played by Oscar Isaac) has awoken after thousands of years of rest, disgusted with the state of the world he sets about to create a "cleanse" and eradicate billions of lives in the process. He selects four horsemen Storm (Alexandra Shipp),  Psylocke (Olivia Munn), Angel (Ben Hardy) and Magneto to help him in this carnage. To stop him Xavier will need to have his still learning students (including Tye Sheridan, Sophie Turner, Kodi Smit- McPhee as Cyclops, Jean Grey and Nightcrawler respectively) battle Apocalypse along with other returning x men (like Jennifer Lawrence as mystique and Evan Peters as quicksilver and lucas till as havoc) for the fate of the world.
While there were some critics over the lack of villain motivation on Apocalypse's part and scripting, and while yes he could have had a bit more explanation done, it didn't really need it. You know that Apocalypse was from the egyptian era where he was worshipped as a god and wants to regain that status, it was enough for me as a motivation, especially considering that you have a 2 ½ long film with MANY side characters and a big plotline.  And speaking of the plotline I thought the movie does a solid job of bringing them together. While I wouldn't call it as good an X men film as Days of Future Past, X2 or even First Class it was still very enjoyable and quite frankly fun. The battles and costumes look like they came right off a comic book page and the film remained a visual treat throughout.
The cast remained in top form in the film and the new additions were a very welcome treat. The very talented Sophie Turner was great as Jean Grey and Tye Sheridan, an actor I wasn't very familiar with before this movie, surprised me at how good he was and will definitely be one to keep an eye out on. Jennifer Lawrence, Michael Fassbender and James Mcavoy all continue to do a great job with the iconic roles they first got in First Class and find new levels to deal with in this film. Evan Peters was a very welcome return from the last movie in which he again has probably the best scene, and most funny scene in the movie, that while identical to the one in the last movie, I thought actually topped the last one. Someone who I don't think gets enough attention in these promotions and reviews is Rose Byrne returning after a one film absence as Moira MacTaggert, who has a key role in the film. I always enjoy watching Ms. Byrne perform and this film was no different. Smart, cool, tough and instantly likeable, she's a human able to hold her own against metal wielding mutants and horsemen of the apocope. Oscar Isaac does a good enough job for wearing a refrigerator and piles of makeup on his body, although I can't help but think the character might have been more assistente by going the darth vader route. Having a physically impressive stuntman do the bodywork and dub in the voicework from a talented voice actor. But Isaac and the rest of the cast still perform well and go on to show how the X men films have a consistently talented roster of cast members.
If I had one  big critique to play onto the film that doesn't spoil too much is when Apocope and his horsemen paid a trip to Auschwitz to help Magneto, who has been long established a survivor of the holocaust as part of his character and motivations, to help reawaken his rage. While I don't think it was necessarily intentional, it was a bit jarring to see colorful comic characters, including one in an outfit that is quite "sexy" in a place of such sadness and real life despair. I doubt they actually filmed on location, and I further doubt they meant disrespect and I could see they didn't need it, but it's ultimately a short sequence that doesn't have that lasting an effect on the film.
In the end X-Men: Apocalypse might not have as strong a story and might not be the best X- Men film, it is still a very fun viewing pleasure and a great way to kick off your summer! Take note to stay until after the credits as it teases a popular and one of my personal favorite X-men villains. I highly recommend this movie for a good fun time at the theaters!
*Note: this will be my last review and article at SLA Media and I thank those of you who have paid me compliments and that you guys enjoyed reading these articles as i enjoyed writing them. Wishing you lovely people all best as I go forward to this next chapter of my life.  
Safe travels, best wishes,
Sean the gay suited reviewer man
I'll see you at the movies   🙂