Lauren Nicolella
Features and Social Media Editor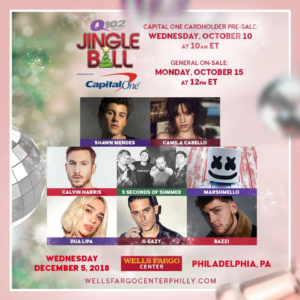 IHeartRadio's annual Jingle Ball concert took place on Wednesday, December 5th. For the past few years, I've taken a look at the lineups and have attended the concert multiple times with my friends. It has become a pre-holiday ritual for me and my friends that begins the winter with delight.
This year the lineup consisted of more popular artists such as pop stars Dua Lipa, Shawn Mendes, and 5 Seconds of Summer. In comparison to other  Jingle ball shows, Philly featured some of my favorite artists.
I was pounced on the opportunity to buy tickets to this concert, especially after seeing my Twitter timeline up in arms about about their city's lineup choices. With 5 Seconds of Summer releasing their album this year, they were the make or break factor when deciding to invest in closer seats than we were used to getting.
I was fortunate to see smaller lineups with lesser known artist in previous years. Bigger cities like Los Angeles and New York got the more well-known artists, and it's like the Superbowl win brought Philly some luck this year to get a mixup. However, it was very exciting to finally be genuinely excited for more than one performer. It's safe to say that this year's changes from the norm were a success.
Calvin Harris, Bazzi, and 5 Seconds of Summer were breathtaking.
I was pleasantly surprised by EDM artist/producer Calvin Harris despite my typical lack of interest towards his music. His use of different colored lasers and choice of songs made everyone get on their feet and jump around. He played his hits such as Summer, Blame, and even older hits We Found Love and This is What You Came For featuring Rihanna. When an artist puts in songs that everyone knows, it's bound to be a good time. I saw every single person swaying along in the cloudy lights, even those who were sat further down in my row.
Michigan native Bazzi has become a breakout star this year due to the success of his song "Mine". The song was certified two-times platinum in the US, three-times platinum in Canada, and has flooded the social media sphere for months. His amazement with the crowd made me swoon. Everyone in the arena was singing along, and being able to see his face. His performance exceeded my expectations, lacing his heart to his belting, passionate vocals. I couldn't keep my eyes off of how hard he was smiling, and his looks of delight up at the different sections in the arena.
In April, I saw 5 Seconds of Summer at the TLA and wasn't impressed to say the least, but it wasn't their fault, it was just super packed in the venue. However, their Jingle Ball set was much better in comparison.
I was overjoyed to finally experience their newer songs live, and they hands-down put on the best performance. It was their last show of 2018, and my friends and I could match their adrenaline, going home with sore throats from screaming the lyrics of every song back to them. Unfortunately, not every performance matched others.
Dua Lipa has become super popular this year with her songs New Rules, IDGAF, and One Kiss. I was pleasantly surprised by her appearance at Jingle Ball. I waited so long to finally see her, and was disappointed with her set overall. Her vocals were certainly there, but her choreography was so cringeworthy that I had to sit down because I was the only person standing in my row. I felt so bad, and the amount of memes I saw on Twitter days after were constantly making me relive that moment.
I really hope that next year's lineup will hold something special, because it starts  the beginning of the school year on a high note. Jingle Ball has always been a fun experience, and it's worth the amount of money spent since there is an entire lineup.