Lily Bromley
Staff Writer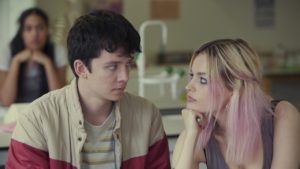 Close your eyes and imagine the ordinary TV portrayal of high school. What do you see? For me, it's an oversaturated mess, filled with bad acting and cliche plot lines. What's worse is that there is no in-between for teen shows, they are either overly innocent or extremely raunchy, the actors either 12-year-olds or 30-somethings. I have always wished for a show that accurately described high school.
Sex Education isn't exactly that show, but it's close.
The new Netflix show follows Otis Milburn, a socially awkward nerd, and Maeve Wiley, a punky girl from the wrong side of the tracks. It seems like a pretty cliche high school show: naive boy meets manic pixie dream girl and his life is changed forever. But that's not where the show goes.  Maeve and Otis are paired together on a science project and she observes him comforting a classmate about his sexual troubles. She then decides that she and Otis are going to start a "clinic", where he gives advice to their sexually inexperienced peers, and while Maeve takes care of the money.
The soundtrack for Sex Education was chock full of throwback indie and punk music, with some of my favorite bands including, The Cure, Bikini Kill, Talking Heads, and The Psychedelic Furs. In fact, music played a big part in the characters. Maeve Wiley's Riot Grrrl aesthetic is sealed when she is shown blasting "Rebel Girl" by Bikini Kill in her bathroom. Otis' sad boy demeanor is showcased with his own music including "Boy's Don't Cry" by The Cure.
Sex Education is set in the present day, but if it wasn't for the use of cell phones and laptops, I would have guessed it was set in the 80s or 90s. The costume design is also a definite throwback, and each group seems to have their own specific style. The popular girls are clad in denim jackets, zip up jumpsuits, colorful tops, and shoulder pads. Maeve wears dark denim, combat boots, and chunky jewelry, keeping up with her grungy character. Otis keeps to blue, red, and tan. I overall liked the 80s and 90s vibe of the show, but I thought it seemed a little out of place in a show that seems so current in all other aspects.
One of the most compelling parts of Sex Education is the obvious focus on female empowerment. I mentioned before that the female lead Maeve Wiley isn't the average female character, though she easily could have been. With her pink hair and grunge style, she almost resembled Ramona Flowers from Scott Pilgrim vs The World.  In the show, Maeve makes a point to say that she likes "complex female characters", and I would definitely say that she is one. She has a complicated backstory and is given plotlines outside of Otis.
My favorite episode of the whole show is Episode 3, in which Maeve, after finding out she is pregnant, decides to get an abortion. The show did an amazing job of being respectful and realistic about the whole experience. The episode was very heartwarming, and I think it is the first time I had ever seen abortion being talked about in depth on a teen show. In Episode 5, an anonymous nude picture is sent to all the students at the high school. One of the popular girls, Ruby, confesses to Maeve and Otis that it is her picture. Maeve and Otis investigate who sent the picture to try and find out who sent the picture. The best part of the episode is the ending, in which all the girls in the school stand up during an assembly to declare "It's my vagina" in support for Ruby. The scene was again, very heartwarming. The show's portrayal and the inclusion of LGBT relationships, people of color and multiracial couples was authentic.
Sex Education isn't the perfect show. Most of the actors are in their twenties, and their age, plus… some of the sexual references and plotlines (like the scene where a boy serenades his crush with "Love Really Hurts Without You" By Billy Ocean with the whole school watching) make the show somewhat unbelievable. But I think that overall, Netflix did really well. The show is diverse, funny, and definitely binge-worthy.