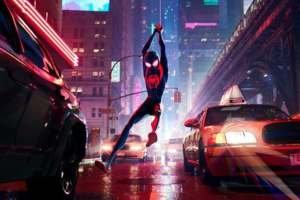 Jayla Wright
Copy Editor
There's another Spider-Man movie in theatres. However, this time the kid behind the mask is not Peter Parker but Miles Morales, an afro-latino teenager who lives in Brooklyn, New York. Like any Spider-Man movie, Miles finds himself suddenly tasked with the great responsibility of being a superhero. Around the same time he gets bit by a radioactive spider, mysterious occurrences cause five other versions of Spider-Man (Spider-Gwen, Peter B. Parker,  Peni Parker, Peter Porker, and Spider-Man Noir) from alternate universes to arrive in his own.
His mission? Return each spider-person to their universe and restore balance to the world.
Typically when a new Spider-Man movie comes out fans are quick to judge which iteration of the superhero is the best. A Spider-Man movie is graded based on it's leading actor, how well they play their civilian selves and their believability as a vigilante. However, I believe this movie deserves more than to just be compared to its successors.
What Into the Spider-Verse does well is that it is amazing not just as a stand-alone Spider-Man movie, but as a film itself. I love each version of Spider-Man thus far, but I appreciate this one more because it has the potential to not just influence superhero films, but the animation medium as well.
As well as having beautiful animation, the soundtrack and score are great too. Songs like "What's Up Danger" by Blackway and Black Caviar showcases a major turn point in Miles' character where he learns to face his fears while hip hop beats represent his culture. There's even a trumpet sound that plays in the villains' score as a little nod to Mile's spidey-sense. My spidey sense were tingling when I heard this soundtrack! The music was something that made you want to both get up and dance but also be able to just listen to the music on the subway and chill.
Spider-Man: Into the Spider-Verse isn't just another Spider-Man movie, it's a work of art. Speaking of the art, I'd like to take a moment to talk about my favorite part: the animation.
When I first caught a glimpse of the newest Spider-Man movie I was surprised by the animation. It was fluid and yet experimental. Some scenes look like they're taken fresh out of a comic book, halftone dots and speech bubbles included. The movie created an amalgamation of 2D and 3D animation techniques, resulting in a style I've never seen before. It was spectacular.
I researched the methods for making the movie and found out that the team of artists who worked on the film applied traditional animation techniques to 3D animation. For example, the film was made "on two's."
For a bit of context, films are typically animated "on ones" this means that movement is made by having 24 frames (or images) in one second.  When "animating on two's" an image is made for every second frame leading to 12 frames per second. This was used for the character's snappy motions and expressive movement. Such as Miles fearfully jumping off a building or Peter sloppily eating fries.
As I researched more and more my appreciation for the movie grew immensely. The team who worked on this film, easily could've created a typical animated film that just tells a predictable story without experimenting with the medium and gotten away with it because it's another Spider-Man movie. Instead, they took a risk, and created something new in the film world and tested the outer reaches of animation's limits.
Stan Lee tribute
This movie is also the most recent Marvel movie since Stan Lee passing away. Hearing of his death was tragic, but I'm glad that this movie is a farewell to him. Like any Marvel movie, he was featured in a cameo, this time as a store owner. In the scene, Miles buys a cheap Spider-Man costume and makes a comment on as whether or not it'll fit which Stan Lee replies with "It always fits, eventually," leading into the idea that anyone can wear "the mask" and be a hero. It was almost like a final message from Stan Lee given to inspire anyone missing his presence.
This message became solidified when the movie ended and a quote from Stan Lee appeared on the screen.
"That person who helps others simply because it should or must be done, and because it is the right thing to do, is indeed without a doubt, a real superhero."