Harper Leary
Staff Writer
Many students' first in-person benchmark season came in full swing towards the end of October. This was a typical start of the school year – except that more than half of SLA students did not know what to expect after being online for more than a year and a half.

As a result, each student has had to find their way in this new, old normal.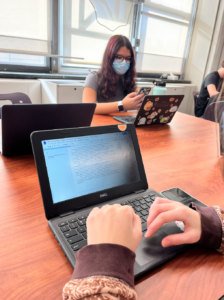 Sophomore Elijah Lopez expressed his opinion on the first quarter's benchmark season, comparing it to last year's, which was almost entirely online.

"I think they are [in-person benchmarks] easier [than online benchmarks], cause the teachers are more accessible in person, and the checkpoints that they gave us were a lot better this year than we got last year."

"For sophomores, it was their first time doing an in-person benchmark, so it- sometimes we say that for the sophomores, 'it's like you're having your freshman and sophomore year simultaneously."

English teacher Larissa Pahomov said. "It was unique because we were expecting academic work that was beyond what we would expect from freshmen, but in terms of the scaffolding and support in getting a benchmark done, I think we, meaning the teachers, had to put more effort and more steps in to make sure students were supported."
Some students had mixed opinions on the topic.

Junior Katelyn Chen had her entire sophomore year online, meaning this is the first time she has been in person since freshman year. 

"Honestly, it depends because I feel like online they were more laid back, but like in person, it's easy to work with people," Chen said. 

Senior Shay Deanna seemed to agree.

"I can focus better [online], like my focus in class gets messed up when I'm around a bunch of people. On virtual school, it was easier because I could just focus, and I can get it done when I wanted to. And then I had the whole day to get it done because we finished school at like 12."

While opinions about the return to in-person workloads were mixed, all three students interviewed emphasized that they are glad to be off Zoom.

Ms. Pahomov pointed out the positives of teaching in person again. "I'm definitely appreciating the chance to check in with people in person," she said.

"I think that valuing and maximizing the time we have face to face has become even more important. Because that was the biggest hurdle, I mean there were ways to check in with students one-on-one, but it was so much slower with Zoom that you just couldn't provide the level of feedback that we were used to."