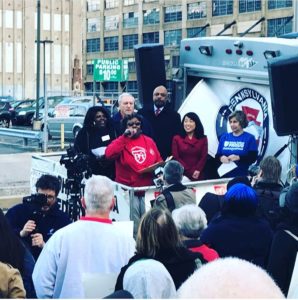 Sanaa Scott-Wheeler
Staff Writer
On November 16, 2017, The School Reform Commission, also known as the SRC,
voted to disband. They voted to dissolve with a 3-1 while one member abstained from voting. The decision will be in effect starting June 30th.
The SRC is a state-appointed board responsible for the management of schools in the district and was created in 2001. In its seventeen years, the commission has closed 37 schools in the 2012-2013 school year and opened many charter schools, which advocates protest for draining resources from the district.
Countless people in the city have criticized the SRC for never fully advocating for students. Some of the complaints with the SRC have included that members of the Commission lived outside of the city, they did not have children in Philadelphia's district schools, they did not have a background in education, and no one had any idea of what the students in Philadelphia needed.
With this level of criticism, it's no surprise that many people were pleased with the decision to disband.
¨I am anti-SRC," said Senior Tamir Harper, who is an education advocate, co-founder of the organization called UrbEd, (created with former student Luke Risher) and has been attending SRC meetings for years. "The disbandment will positively affect the students of Philadelphia because we will have a voice in our system.¨
Harper attended Tilden Middle School in Southwest Philadelphia which at one point was rated one of the worst middle schools in the district. He has watched the SRC fail the school system first hand by not allocating money properly, and not meeting the needs of students, caused by the lack of insight. UrbEd continues to work to bring power back to the students.
History Teacher, Daniel Symonds has appeared at 30 SRC meetings and even spoken at a few.
¨The SRC disbanding is proof that when we organize together as groups of students, educators, parents, and allies we can get things done," he said.
"I want to see this SRC disbandment as one of a series of dominoes until we as people who live in this city demand the existence of the things we deserve, better health care, fully funded transportation, fully funded neighborhood public schools,15 dollars an hour minimum wage and an end to abusive policing. Every win that we get is another reason for people to get involved.¨  
Symonds has worked in schools around the city where the SRC has promised to improve, but instead many teachers were fired and only some were allowed to get their jobs back.
So now that the SRC is gone, what happens next?
¨I am interested in seeing a hybrid school board, which is a fifty-fifty percent split with some appointed and some elected by the mayor´s office and confirmed by city council,¨ Said Harper.
However, that's not the current plan.
The SRC will be replaced with a nine member board of people appointed by the mayor, there is also a position open on the for a student. Our City Our Schools, a group of organizations and people, think it would be best to have a people's school board where each member must meet all three constraints, members should live in Philadelphia, they should support racial and economic justice, none should have financial states or other conflicts of interest in our public or charter schools.
Overall the absence of an SRC and presence of a mayor/people appointed board will benefit the students in Philadelphia because the members will know what issues are affecting the community.