Autumn Lor
Staff Writer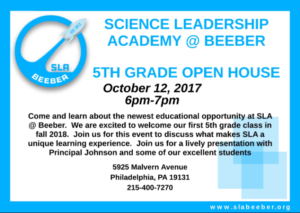 Starting in the 2018-2019 school year, Science Leadership Academy at Beeber is expanding to include middle school grades 5 through 8.
Expanding to the middle grades has been a longtime dream of SLA Beeber Principal Chris Johnson. When SLA Beeber started, they were co-occupying the building with the original Beeber middle school, but as each year went on, the high school student body grew, decreasing the number of middle schoolers. Now they want to open the doors back to middle schools letting students being a part of the SLA community.
Their first open house was on Thursday, October 12 where they allowed students and parents to see what SLA Beeber campus looked like. Students got to know about the core values that all of the SLA community uses; inquiry, research, collaboration, presentation, and reflection. Johnson says that students will have one-on-one laptop time so they can understand the core values a bit more when it comes to research and presentation.
Science Leadership Academy Beeber Middle School will host 60 students per grade. Like the two SLA high schools, this middle school will also be selective admission, so students will be required to attend an interview, which took place on Saturday morning, October 21st and Sunday afternoon, November 5th.
Some requirements Beeber Middle School are looking for are advanced or proficient PSSA scores, good attendance, and their interview.
During the interviews, teachers are looking at students and comparing their process with the core values.
Teaching Process
Along with looking for students to go to this school, Project Coordinator Caitlin Thompson and other faculty members are already accepting resumes and will be doing the teacher hiring process in Spring 2018. They are looking for about 3-4 teachers for the first year. They do not have elective classes as of now, but will soon be created after they knew what the teachers can do.
The teachers are required to go to a Summer Institute to be taught how they should teach in the Project Based Learning (PBL). The event is hosted by Thompson and Former SLA Teacher Diana Laufenberg  
On Wednesday, November 29, 2017, there was also a  design meeting discussing better ideas of how the school will run.
Student Life
In contrast to the busy schedule of a high school student, these middle school students will have about 3-4 classes a day but they will have to process of teaming and looping so that when they would have the same teacher every two years and students will be moving from class to class.
The high school allows the 10th and 11th graders to have ILPs, while freshmen have mini-courses. Johnson plans on having the 5th-grade students to also have mini-courses that will on their Wednesday on after school. The high school students have a chance to doing their ILPs with the middle schoolers.
Applications have already been accepted for the incoming 5th-grade class, and decisions will go out in the spring.