Tamir Harper
Editor
When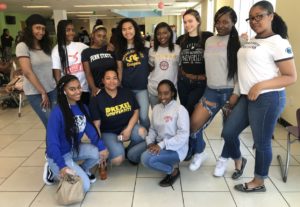 it comes to college acceptances, The Class of 2018 students is making history.
The school hit a new milestone when three students won a Liberty Scholarship at Drexel University. Seniors Tk Saccoh, Athalia Tan, and Seyni Ndaw all were granted the scholarship. Tan, and Ndaw will be attending while Saccoh attends Columbia University.
From the looks of the college wall outside of the third-floor college office, the class of 2018 will keep the school's numbers up and will be sending students to institutions like Philadelphia University, West Chester, and Community College of Philadelphia. some great institutions. Like students in previous years, graduates are also discussing other post-secondary options like trade school.
95% of the class of 2017 went on to attend a 2-4 year college or university according to College Counselor Karina Hirschfield. Just like previous years, the students who decided not to pursue a 2-4 year degree went on to other programs, such as traveling, and going straight into fields that they love.
Three students were accepted as liberty Scholars and others received some very prestigious scholarships.
To celebrate all of these accomplishments, students came together on May 1st, 2018 thanks to the planning of  Science Leadership Academy Senior, Fatoumata Camera. Camera planned a college signing day inside SLA's cafeteria with many great activities. Students ate, danced, and showcased what they will be doing next year.
Where Our Students are Going
Senior, Mekhi Granby was accepted into many universities but last minute decided to pursue Philadelphia University, a fairly new university which is a combination between Jefferson University and Philadelphia University. Mekhi is one of three attending Philadelphia University.
"I am excited to explore the many opportunities that will be presented to me," Granby said." He will be pursuing a bachelors in fashion design, to hopefully pursue a career in sneaker design.
Senior Destiny Patton will be attending Loyola University studying Mass Communications. She is really excited to start her new journey outside of the city of Philadelphia.
Senior Nick Shaw is thrilled to be attending Johnson & Wales University in the fall studying Business Economics.
Below is a list of confirmed schools that the class of 2018 will be attending.
Adrian College | American University | Columbia University | Cedar Crest University | Community College of Philadelphia | Delaware State University | Drexel University | Indiana University of Pennsylvania | Johnson & Wales | Kutztown University | Penn State University | Philadelphia University | Rensselaer Polytechnic Institute | University of Pittsburgh | West Chester University