Tamir Harper
Editor in Chief
Rapper Meek Mill was sentence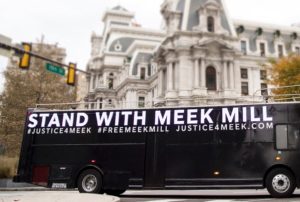 d November 4th by Philadelphia Common Pleas Court Judge Genece Brinkley for a probation violation. Judge Brinkley sentenced Meek Mill 2-4 years in state prison. But many call that sentence a harsh sentence for a simple probation violation even after the District Attorney stated that jail time was necessary and his probation officer reported that Meek Mill was doing well on probation.
Meek Mill and his attorney are officially demanding his release from prison and the people of Philadelphia and around the nation are demanding the reform of the criminal justice system.
Since the rapper's sentencing, there have been multiple buses with illuminated with a slew of things including; "Stand with Meek Mill," "#Justice4Meek," "#FreeMeekMill" driving around Philly. The buses were even seen from the journalism studio in Room 505, which sparked a conversation throughout Science Leadership Academy.
Many students support the movement to reform the criminal justice system, and think it makes sense to use Meek Mill as the poster child. However, many teachers are not on board with the movement to free the Philadelphia rapper.
When SLA students were asked about their take on the situation, it took some people over ten minutes to explain their opinions.
Junior Imani Murray is not on board with the Free Meek Mill movement. She believes Philadelphia has other things to worry about. Murray pointed out that Philadelphia did not protest for the "sugar tax" or "school shut down." She doesn't believe that the protests are for the reform of the criminal justice because "they should have been protesting for Kalief Browder."
But Science Leadership Academy Senior Opoku Kwateng countered Murray's argument. Kwateng believes that Meek Mill is " being imprisoned for an action that he has already been cleared for." He also believes that "those who are educated are protesting for the reform of the criminal justice system."
Junior Avi Cantor is a fan of the free Meek Mill movement because he likes Mill as an artist and thinks that "the trial was unfair I think there were lots of personal issues." He continued, "he was given to much time for a petty offense."
Teachers around the office table are not fans of the Free Meek Mill movement but one of the youngest teachers in the building is on board with the Free Meek Mill movement.
But Jay-Z, millennials, and many Generation Z'ers are in favor of freeing Meek Mill and reforming the criminal justice system including the young Pennsylvania State Representative Black Caucus Chairman Jordan Harris and Rev. Al Sharpton.
Do you stand with Meek Mill? Leave your perspective in the comments!